About Us
Established in 1998 on the Gold Coast, Navajo Landscape & Design provides the highest quality landscaping and design services all over Australia and overseas. We pride ourselves on our exceptional attention to detail in all projects we undertake, whether it be on a large or small scale. Navajo Landscape & Design provides reliable and professional service, with a perfectionist reputation that precedes us.

Our friendly and fully qualified staff will make your next project the envy of neighbours, friends and business competitors. We fully guarantee professional and efficient workmanship which gives you the peace of mind that your outdoor living area will be perfectly picturesque.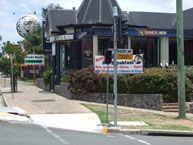 Commercial and Industrial Landscapes and Design
Navajo Landscape & Design provides an artistic individualistic approach to commercial landscape and architecture, uses tolerant and suitable planting selections and utilises quality materials to give all landscapes a stress-free establishment. We are fully experienced and currently landscaping for over a dozen regular builders and developers on the Gold Coast.
We liaise with City Councils, Town Planning and Body Corporate requirements in order to make your next commercial project hassle free. Our vast knowledge and experience ensures that we provide our clients with an exceptional result. We organise final inspections for relevant authorities, seeing the project through to completion. Our work speaks for itself.
We also specialise in -
Landscape Designs
Professional computer generated landscape designs servicing builders and developers to council and body corporate submissions.
Rock Work
We can supply and install all types and styles of rock work design and construction, including our own ashlar style walling.
Qualified Consultancy
If you require professional, qualified consultancy or simply need a second opinion on advice you've already received, we can help you out.